Wish to make a TV show? Want it to look 'Cool. Cool cool cool'? Want the viewers to keep a track of the star cast and check 'how they're doin' everyday? Hmm. Worry no more, reader! After years and years of research, and having achieved a PhD in couch potato-logy, I bring to you the secret behind a successful sitcom. 'Bazinga', punk! Read on for more…
So, please put your aprons on, because what we're baking today is the story of a magnificent sitcom.
NAME OF THE DELICACY:-
Sitcom (n): A situation comedy, often shortened to the portmanteau sitcom, is a genre of comedy that features characters sharing the same common environment, such as a home or workplace, with often humorous dialogue.
INGREDIENTS:-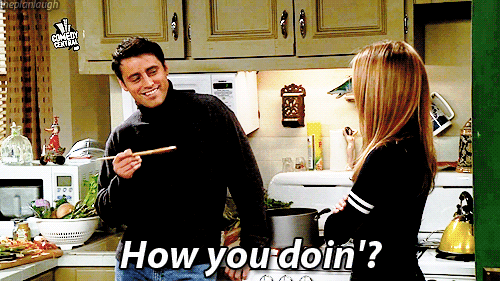 The Casanova that can charm the ladies just right! [Barney Stinson- this guy is a GOD! He gets out there for what (or who, for that matter) he wants and gets it(her), no matter what! Would never back down. He's determined, so much so, that he's developed a book that'll fetch him all the lasses in town (the Playbook, anyone?). Wait, does that sound familiar? Oh, right! Joey from 'Friends' has a similar approach towards the ladies. And Charlie Harper! Or well, Howard Wolowitz (well, the poor lad tries, at least!)].
The under-confident geek, usually high on facts and trivia, but low on flirting skills, or well…just talking skills, for that matter. [Leonard Hofstadter, Ross Gellar, Ted Mosby, Alan Harper]
The one with negligible social skills and is usually realllyyy awkward around women (but is the most committed kinda guy underneath). [Chandler Bing, Rajesh Koothrappali, Marshall Eriksen, and well, Alan Harper]
 The Materialistic Beauty:
The lass that is sought after the most. She should be very confident, very ambitious (should have sporadic ups and downs in her career) and a little (read: very) materialistic.[Rachel Greene, Robin Scherbatsky, Penny (we don't yet know what her last name is)]
This lady is usually the kind that takes care of everyone, cooks and cleans (more or less out of an obsessive compulsion) and basically is just the ideal wife. [Monica Gellar- Bing, Bernadette Wolowitz, Lily Eriksen, and um, Berta (yes, the ideal wife)]
This is the one that never wants to be confined within the generic norms set by the world and always does what they feel like doing. [Phoebe Buffay, Amy Farrah Fowler, Jake Harper, aand Sheldon Cooper (<insert textual heart here>)]
And that one poor socially awkward lad on the show with serving everyone else on the show as the only aim of his life. [The driver- Ranjit (HIMYM), the coffee house guy- Gunther (F.R.I.E.N.D.S), the comic book store guy- Stuart (TBBT) and the pharmacist- Russell (Two and a half men)]
DIRECTIONS:-
 Pick one place where the whole gang hangs out (because let's face it, who needs to work for a living, right? You could always suit up with the shit load of money that you already have with no proof of your income whatsoever!). [The MacLaren's Pub, Central Perk, Sheldon's place and the Charlie's beach house (wow!)]
After years and years of the ladies' man hooking up with random (beautiful) ladies and grinding booty, make him wake up one fine morning to the realization that he's been hit by the Cupid. [ Barney (Robin), Joey (Rachel), Charlie (Chelsea) or Howard (Bernadette)]
And the evergreen concept- the geek who has always been in love with the ambitious beauty but has never really been able to muster the courage to confess his feelings for her and then one fine day, BOOM! The girl gets to know about his feelings and finally reciprocates (Aww!). But that doesn't quite seem to work out because well, some of them were just ON A BREAK! (But it will, eventually)
Oh, and not to forget, the ambitious one gets exposed to one of her friends with sublime intimacy after getting slightly intoxicated at some point in their lives.[(Robin and Barney, Penny and Raj, Rachel and Chandler)]
Garnish using a few irrelevant flings between the characters and a few heart touching moments and you'll be good to go.
Serve hot. And earn a fortune!
"And THAT, kids, is how I met with the success of the sitcom that I made years ago after I cooked up the recipe by the famous couch potato- Dhwani Mohan.''
                                                                                                                                     – Random TV show producer, Year 2050.
So long, readers!
By Dhwani Mohan