I love food. As in love it. I can have high end fancy shmancy food and also gorge on deep friend greasy fast food. But one thing I love to do yet hate it is watch cookery or food shows. No matter how much I eat before watching them they always leave me hungry at the end of it and with a serious case of the munchies.
So I thought why suffer alone, you all join me for this ride and go through this never ending hunger. Bon Appetite.
1. Man .Vs. Food:
This is one show that just makes me go…..like if I don't get what is being shown on screen, then I might as well die.
2. Fabulous Cakes:
If you have a sweet tooth. Then don't watch it. Or watch it. It might give you some amazing tips or ideas for future cakes that you might want to bake.
3. Highway On My Plate:
If you think Rocky and Mayur are the stars of the show, then  you are wrong. It's the food and the fact that they enjoy it so that much makes us salivate even more over the scrumptious food being shown.
4. Whipped:
A 3 hour hunger educing marathon of all things sweet. You will curse me, but its for the good of the world only.
5. The Incredible Spice Men:
Award winning chefs Tony Singh and Cyrus Todiwala host this amazing show and they are not just colleagues. They are also long time friends. And it shows on screen. Watch it if not for anything but their quick banter and witty takes at each other. And the fact that they make beautiful food items well… it's the cherry on top.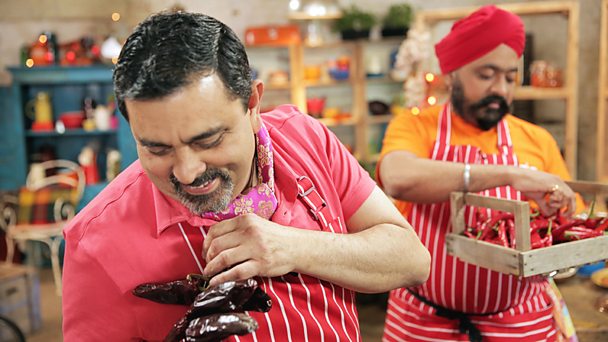 6. Any Food Show With Aditya Bal:
I swear to God, that man doesn't wait before the food is even served on a plate. And that is one the most appetizing thing about his shows. It shows his passion for food and the fact that he can't even stop for his food to come on the plate gives new meaning to the phrase "hot off the plate" that is if it even makes it to the plate.
7. Nigella Bites:
Known for her husky voice and ability to make a simple task like cooking seem like the most erotic act, doesn't negate the fact that she is a damn good cook. The woman knows how to make her stuff and look good while doing it. I made a  peanut butter chocolate cake using her recipe and it was the most tastiest thing ever.
8. The Fabulous Baker Brothers:
They make absolutely delicious food from appetizers, to main course to mouth watering desserts. And it doesn't help to add that they are good looking to the boot.
Yeah…so I'm hungry. And I'm going to make myself something awesome. What about you? Hungry yet?